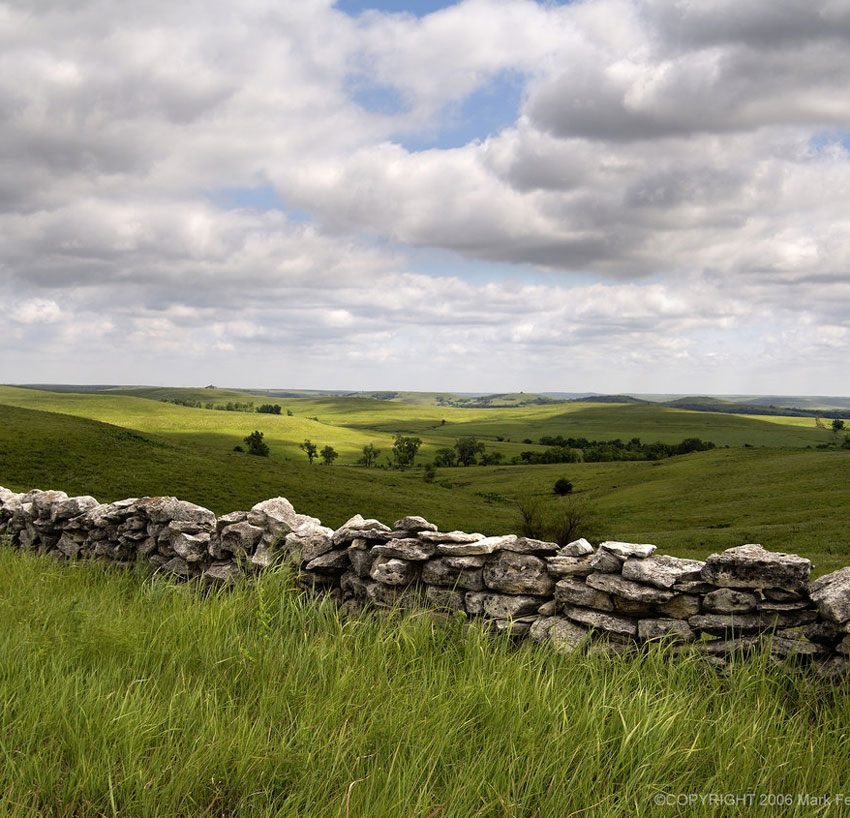 Exhibit Introduction
Deep Roots and New Growth in Wabaunsee County
Hosted at the Volland Store and created with the help of members from our local community this exhibit focuses on the story of Wabaunsee County and the innovative efforts by residents to navigate changing times. This exhibit will take you on a journey through history weaving a tale that starts with tallgrass and brings the story of Wabaunsee County full circle.
Exhibit by Patty Reece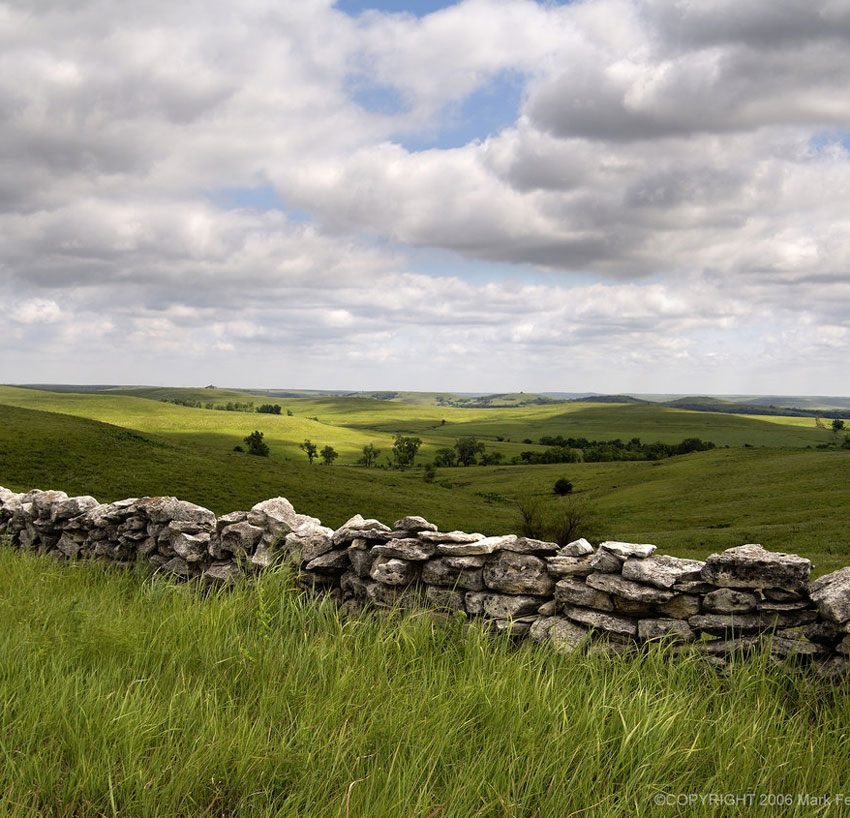 Tallgrass and Flint Hills
Wabaunsee County is in the Flint Hills region of Kansas, one of the largest surviving areas of native tallgrass prairie left in the world. The landscape has shaped Wabaunsee County's history and culture. When settlers headed west looking for ground to plant crops, the Flint Hills were too rocky to plow, leaving the area for the ranchers who made raising cattle their crop. The lack of trees and abundance of native limestone made possible the iconic stone fences, buildings, and arched bridges. The unique characteristics of the land required innovative responses from homesteaders that differed from the approaches used in neighboring counties.
Tallgrass Deep Roots
What looks like a homogeneous ocean of grass is actually a complex ecosystem. The diversity of plant life present has allowed the prairie to thrive – or at least survive – during times of drought and low rainfall. In high stress climates, a single plant type or a monoculture would have died but together they are more resistant. The tallgrass prairie is made up of many grass species and forbs (flowering plant species that are not grasses) with root systems of different depths. What you see above ground is only half the story, prairie roots can extend eight to fourteen feet below the surface. Artist Jim Richardson photographed the grass and roots to bring awareness to this unseen world.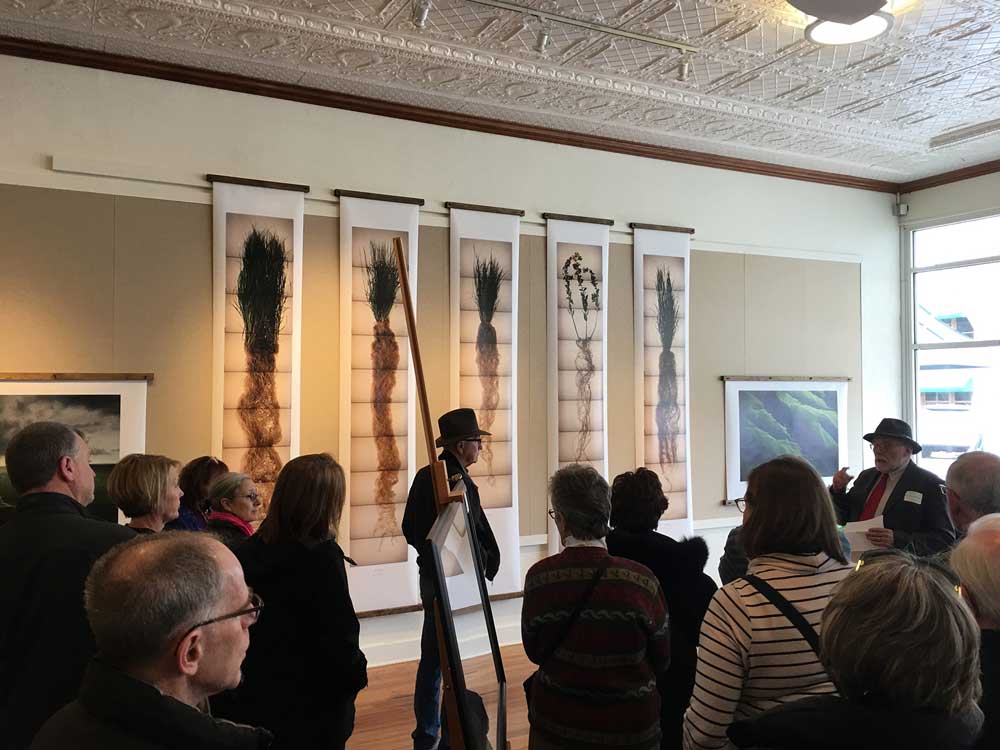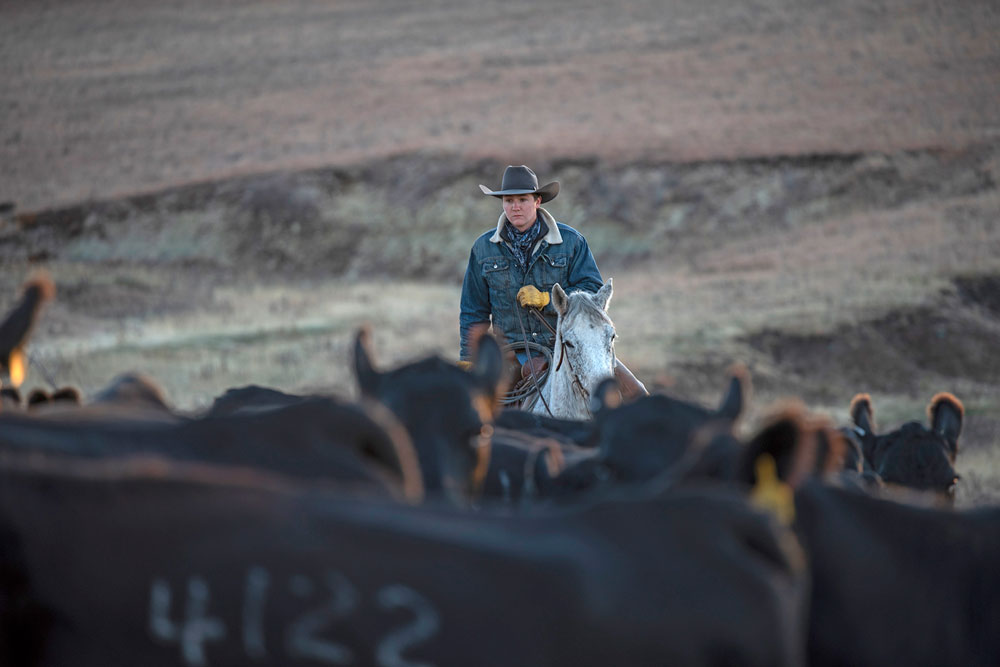 Ranching
The rocky, rolling terrain may be unsuitable for cultivated crops but excels at growing nutritious grass for cattle. The exhibit explores inter-generational ranching, past ranching techniques, and new sustainability-seeking technology. Rural, for some urban-based dwellers, conjures a romanticized image of a solitary person riding horseback. The Rancher sees it as a business. With the challenge of making it profitable. A legacy from fathers and grandfathers to transfer to one's children. Or the chance to create a legacy of one's own. A lifestyle. The feeling that comes after a hard day of work. A chance to take a breath as the sun goes down. The quietness of a morning sunrise. Knowing that one is a part of a community with a strong work ethic, where character counts, and if one needs help a resourceful neighbor is there to lend a hand.
The Volland Store
the location of the exhibit
The Volland Store was built by Otto Kratzer in 1913. Being a railroad stop gave the Volland Store access to the greater world, making it an essential part of daily life. Not only a place to buy goods, it was where neighbors picked up mail, heard news and were exposed to new things, like oysters.
The Volland Store was purchased in 2012 by Patty and Jerry Reece with the intent to create a place for the community to gather, a gallery to exhibit artwork, and a dream to share this landscape with visiting artists. Their vision is a continuation of Otto Kratzer's, to create a place where the community can come together and be dazzled by new ideas.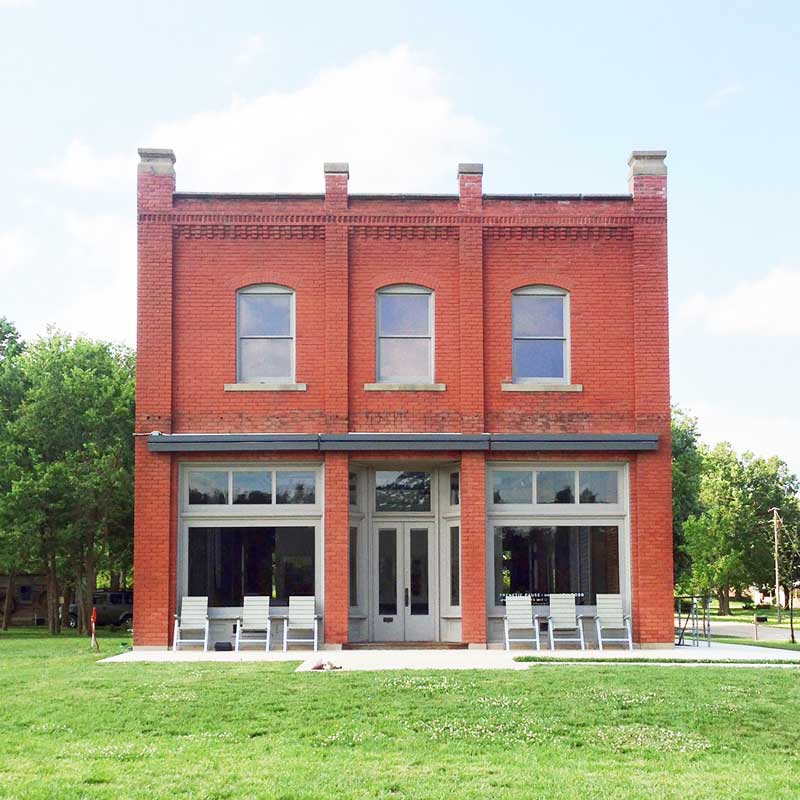 The Future
Innovative thinking will continue to shape the future of Wabaunsee County: sustainable practices in land management and ranching, exploration of agri-tourism, Hot Alma Nights, buffalo ranches, Annual Vintage Motorcycle Exhibit, Paxico Blues Fest, Tractor Crank-up Tour, art exhibitions, gravel riding, and the Pumpkin Patch draw new audiences from near and far and encourage our young people to come back and stay. Newcomers who truly appreciate the scenic beauty of the prairie and the culture of our community support retailers and service providers, creating jobs. Investing in infrastructure like high speed internet removes the barrier of connectivity essential to a successful business and education. People choosing a rural lifestyle are able to invest in businesses and establish their homes enhancing the Wabaunsee County community.
Hot Alma Nights

Diaz Family Equestrian Event at Volland

Courtesy The Volland Store

Paxico Blues Fest

Photo credit: Kevin McConnell
The Middle of Everywhere
How do you define rural? Is it defined geographically? Economically? Is it a state-of-mind? For the people of Wabaunsee County, rural is a community of connected, aware, sustainability-seeking residents creating a patchwork of multigenerational stockholders tackling challenges past, present, and future. Discover how this rural community in the middle of everywhere addresses change and innovation through the decades in the exhibit Deep Roots and New Growth in Wabaunsee County.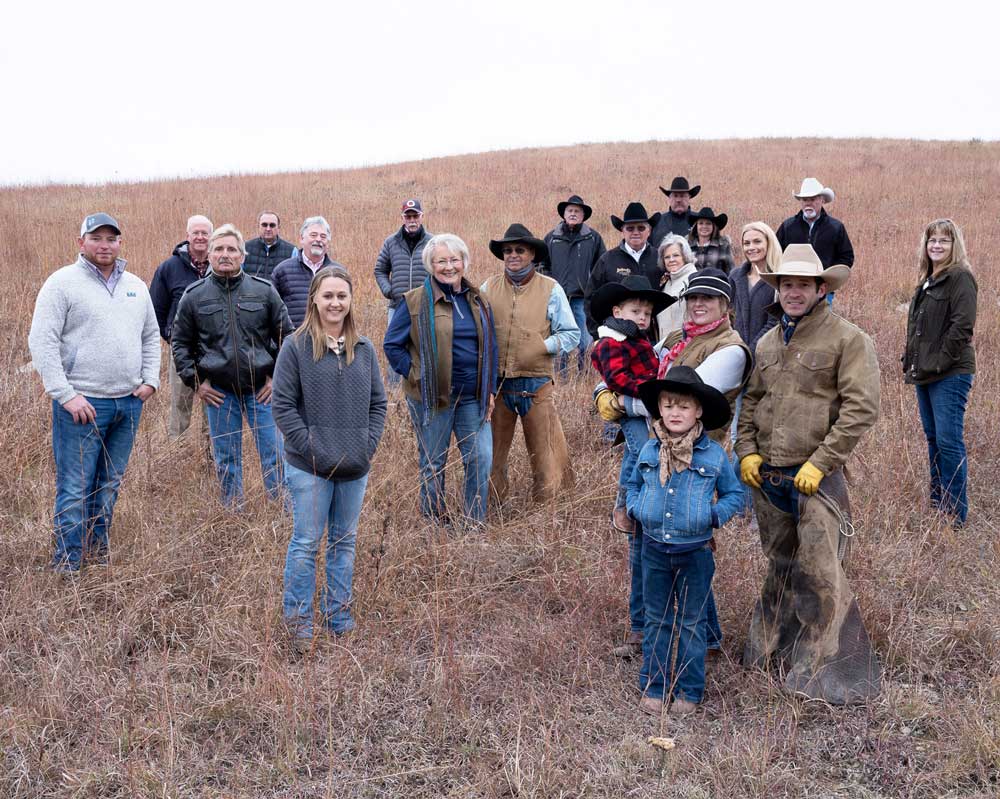 Thanks for experiencing this story from
Deep Roots and New Growth in Wabaunsee County
The full exhibit is on display at
The Volland Store
24098 Volland Road
Alma, KS 66401
All photos and content are property of the Volland Store. Please contact the Volland Store for more information.
Presented by: