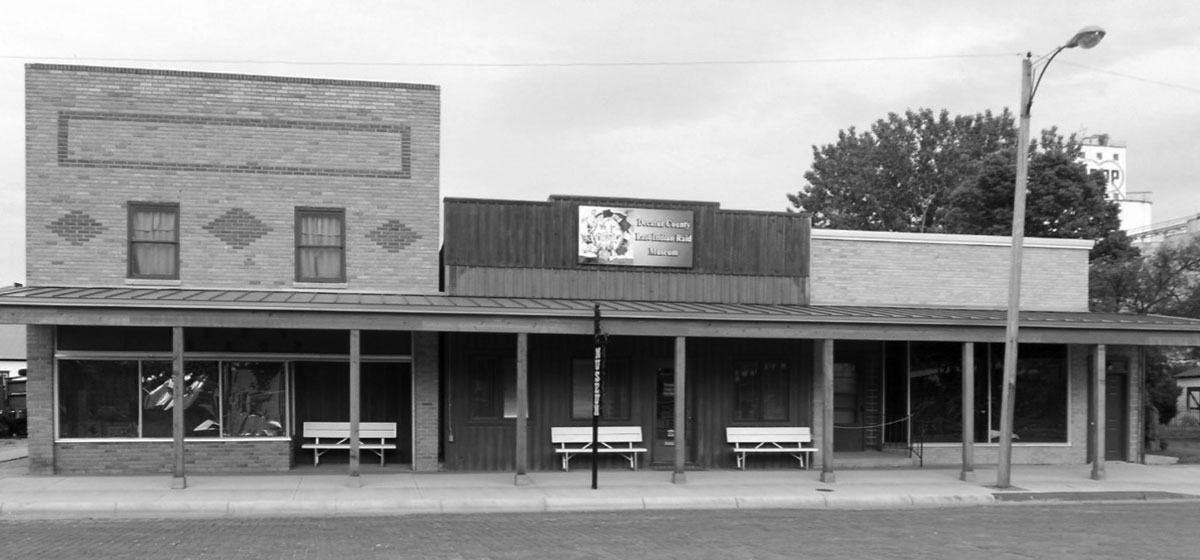 Exhibit Introduction
The Sod Frontier: Homesteading on the Prairie
The Decatur County Museum is a partner site with the Norton County Arts Council, Inc and is emphasizing our path through history while gaining the knowledge of where our strength comes from to move forward.
Exhibit by

the Decatur County Museum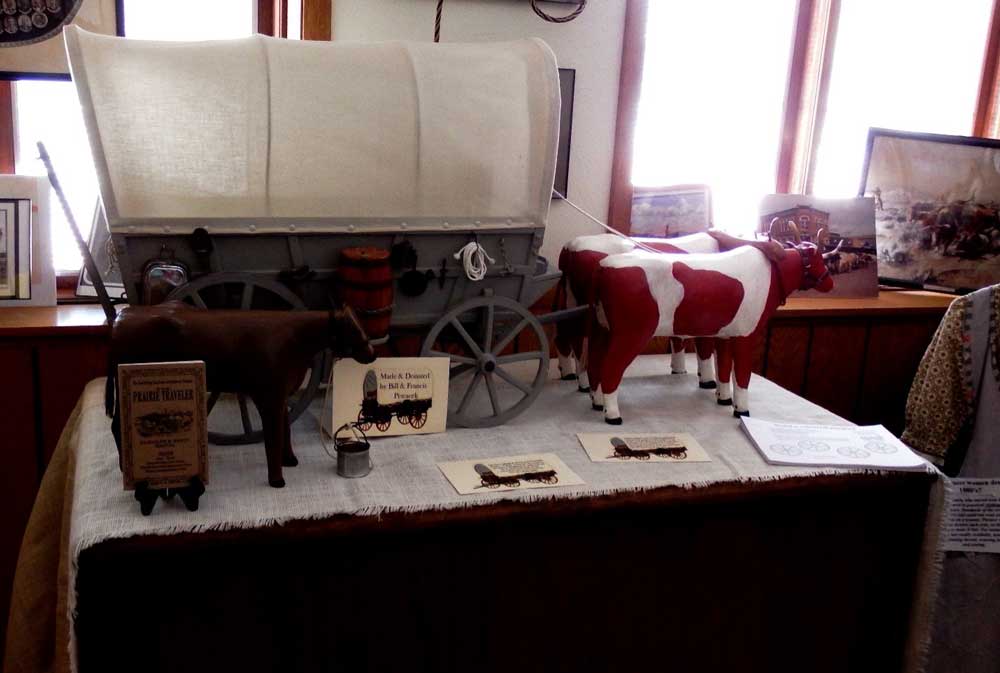 Homesteading on the Prairie
Remember you could only bring what would fit in a covered wagon.
The wagons were surprisingly small, measuring only about four feet wide and eight or nine feet long. That means the entire wagon was narrower than a full-size bed and only a little bit longer. All of the family's belongings had to be packed into the wagon. While traveling, the families either camped under the open stars or slept on the ground beneath the wagon.
"Covered wagons moved our country West. Prairie Schooners were not the ideal form of transportation, but for the pioneers of the 1800s, it was their only real option. Despite the images we see on TV, the Prairie Schooners were slow, bone-jarring, cramped wagons, however, they were responsible for aiding the westward expansion of the United States despite their shortcomings.
Thought Question: What would be the most prized possession you would have to leave behind because of size?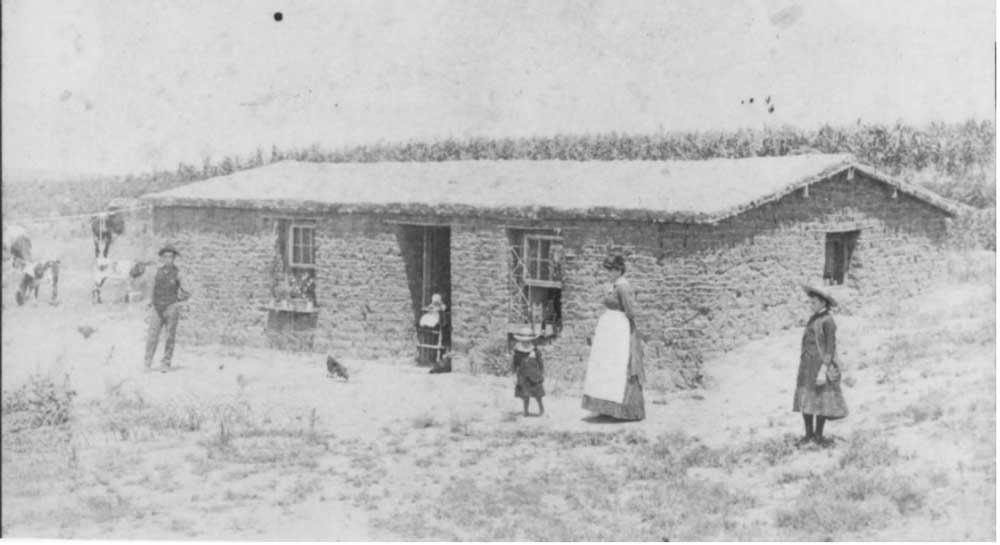 Stories and Pictures: Our Window to the Past
The homesteaders faced many challenges. Everything about the prairie was extreme. The land was fairly flat and treeless, and the sky seemed to go on forever.
Summer brought endless days of heat when the surface temperature could exceed 100 degrees. Periods of drought, rainstorms, tornadoes, swarms of grasshoppers that could destroy fields of crops, and never-ending wind also challenged settlers.
Winters were long and cold. Blizzards were so strong that they could trap livestock and homesteaders under the snow. During the long winter of 1886, horses and cattle died when their breaths froze over the ends of their noses, making it impossible for them to breathe.
Building a home and establishing a farm was a challenge for even the most experienced farmers, but the free land, abundant wildlife, and richness of the soil made the challenge hard to resist.
Without trees or stone to build with, homesteaders had to rely on the only available building material — prairie sod. Sod is the top layer of earth that includes grass, its roots, and the dirt clinging to the roots. Building a sod house was a lot of work and often took many weeks, especially if the settler's nearest neighbors were too far away or unable to help.
Because tents or the top of a covered wagon provided little comfort or shelter from the prairie's wild weather, many settlers began by building dugouts. Dugouts were small, dark spaces dug into the side of a hill that could be made quickly and were much warmer and drier than tents. Many people built a sod house right in front of the dugout and then used the dugout as another room.
Thought Question: Could you spend a month living in a Soddie?
Surveying the Prairie
A great website to check out about the history of surveying Kansas: Kansas Surveying History
The land had to be surveyed before the government could honor the Homesteading Act of 1862.
In the book "Twenty-Five Years among the Indians and Buffalo … A Frontier Memoir" William D. Street describes in Chapter 31: Exploring Decatur County Fall – Winter 1872 – 1873 he describes his conversation with the surveyors who had just finished surveying Decatur County and west.
Decatur County is divided into twenty-five townships and 900 sections. Each township is a 6-mile square that is divided into 36 sections, each 1-mile square (640 acres). Sections are then divided into quarters, each with an acreage of 160. Quarter section can be divided into half sections (80 acres), or quarters (40 acres). This example shows how the divisions are named for legal propose.
Thought Question: Did your ancestors take out a homestead, or timber claim?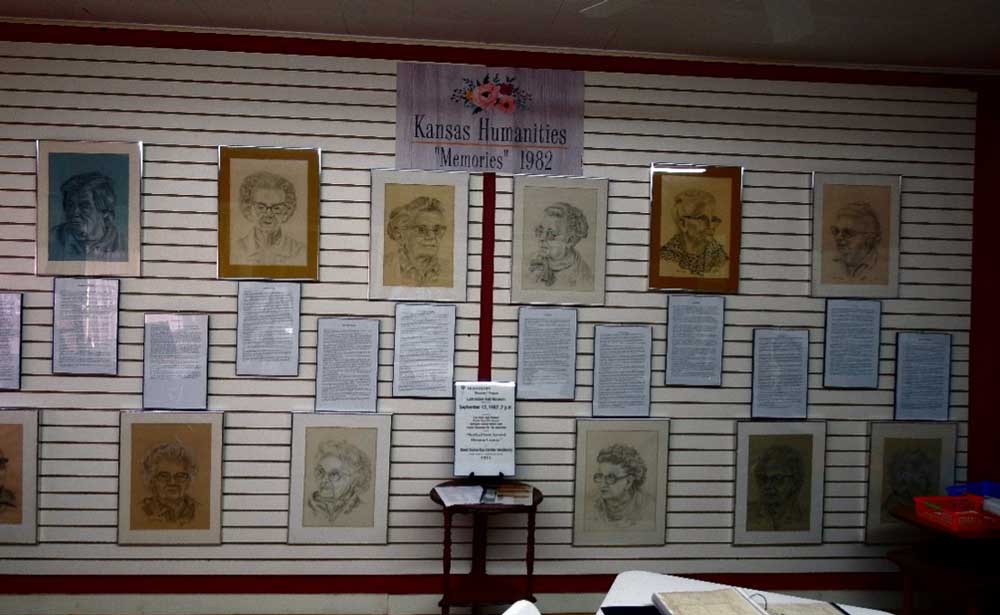 Memories
In 1982, "Memories was a program sponsored by the Kansas Committee for the Humanities, Decatur County Museum, Northwest Kansas Writer's Guild, Oberlin Area Arts Council, and the Good Samaritan Center.
It drew upon memories of twelve residents of the Good Samaritan Center in Oberlin who were interviewed earlier by members of the Northwest Kansas Writer's Guild.
The portrait of each resident was done by artist, Gary Smith from Bird City and framed by the Farmers National Bank. The portraits were then given to the Decatur County Museum for display.
| Name | Death Date | Interviewer |
| --- | --- | --- |
| Lulu Betts | 12-22-1982 | by Neva Aase |
| Frances Johnson | 11-5-1995 | by Twila M. Pearson |
| Frances Dawson Knitig | 9-27-1985 | by Neva Aase |
| Hazel Bobbitt Kump | 3-6-1984 | by Violet Shaw |
| Vera Preston Landau | 9-29-1991 | by Dorothy Fisher |
| Oscar Lohoefener | 3-1-1986 | by Jane Gates Handy |
| Vida Berry Metcalf | 11-10-1988 | by Neva Aase |
| Lena Mount Olson | 2-8-1987 | by Dorothy Fisher |
| Anna Petracek | 2-1-1983 | by Lillian Shimmick |
| Mayme O'Toole Schmahl | 8-8-1986 | by Neva Aase |
| Elizabeth Unger Schreiber | 12-5-1989 | by Wilma May |
| Elizabeth Wurm | 1-2-1984 | by Mae G. Warrick |
Thought Question: Their life was not all bad, what things did you find that these folks enjoyed?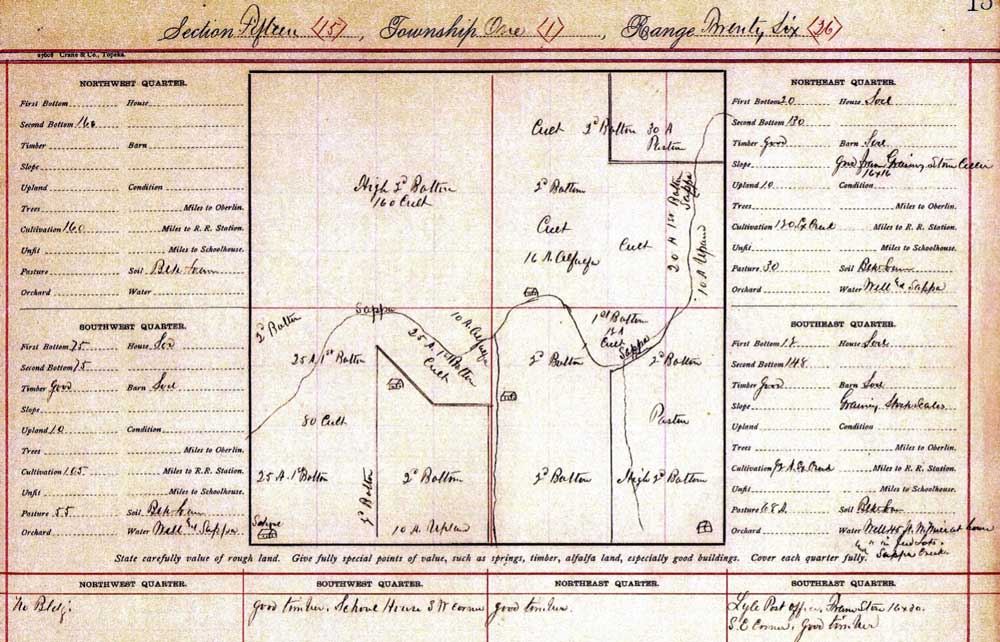 Free Land … Homesteading
In 1862 the U.S. Congress passed the Homestead Act. This law permitted any 21-year-old citizen or immigrant with the intention of becoming a citizen to lay claim to 160 acres of land known as the Great American Prairie. After paying a filing fee, farming the land, and living on it for five years, the ownership of the land passed to the homesteader.
People came from all over the world to take advantage of this opportunity. By 1900 over 600,000 claims had been filed. Was your ancestor one of these 600,000 people? Where did they homestead? Is the land still owned by a family member? Who homesteaded and owned the place where you live now if not in town? We can help you with that with our hands-on-digitized records.
These are just one of the unique records that Decatur County Museum has to help with land and homesteading research. These hand drawn maps of all 900 sections in the county show draws, sod homes, how far to school and much more.
Thought Question: What do you like most about where you live?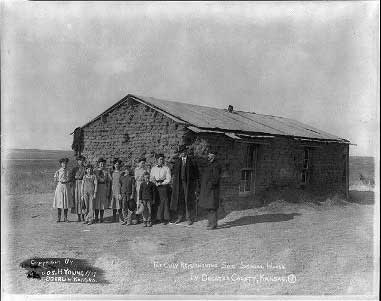 One Room Schools...110 recorded in Decatur County
Education was extremely important back in the Sod Frontier days.
Early in 1873 a great immigration to this county took place and the valleys were rapidly taken by settlers. In the same year Decatur county was created by an act of legislature. Its area is nine hundred square miles. Decatur County was organized December 11, 1879 and the first school district in the county was organized by H. D. Colvin, who was appointed by the county superintendent of Norton County to which we were at that time attached for judicial purposes. He served until sometime in February 1880 organizing twelve school districts.
In 1881 the school population for the county was 202; in 1882 the numbers show 695; for 1887 there were a staggering 2733 students; and over 3000 in 1888.
As school districts were organized many times the first term would be held in a home or old dugout. But as soon as possible a new soddie would be erected for the purpose of school and community events. This would then be replaced with a frame building about the size of 28-feet by 40-feet. Neighbors cooperated in the construction of such buildings, working together for the good of the community.
Farming the Prairie...
The rigors of this new way of life presented many challenges and difficulties to homesteaders. The land was dry and barren, and homesteaders lost crops to hail, droughts, insect swarms, and more. There were few materials with which to build, and early homes were made of sod, which did not stand up to the elements.
Money was a constant concern, as the cost of railroad freight was exorbitant, and banks were unforgiving of bad harvests. Farmers also faced the ever-present threat of debt and farm foreclosure by the banks. While land was essentially free under the Homestead Act, all other farm necessities cost money and were initially difficult to obtain in the newly settled parts of the country where market economies did not yet fully reach. Horses, livestock, wagons, wells, fencing, seed, and fertilizer were all critical to survival, but often hard to come by as the population initially remained sparsely settled across vast tracts of land.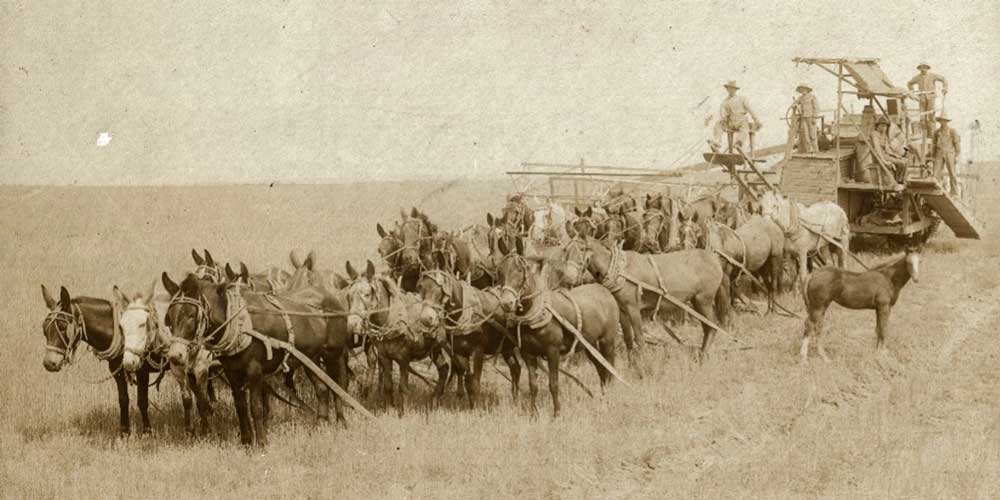 Eventually, the arrival of a more extensive railroad network aided farmers, mostly by bringing much-needed supplies such as lumber for construction and new farm machinery. While John Deere sold a steel-faced plow as early as 1838, it was James Oliver's improvements to the device in the late 1860s that transformed life for homesteaders. His new, less expensive "chilled plow" was better equipped to cut through the shallow grass roots of the Midwestern terrain, as well as withstand damage from rocks just below the surface. Similar advancements in hay mowers, manure spreaders, and threshing machines greatly improved farm production for those who could afford them. Although the land was nearly free, it cost close to $1000 for the necessary supplies to start up a farm, and many would-be landowners lured westward by the promise of cheap land became migrant farmers instead, working other peoples' land for a wage. The frustration of small farmers grew.
Thought Question: Early pioneer settlers were self-sufficient farmers. They build their own buildings, sewed clothing, raised livestock, and grew their own food. Something that you could have done?
Thanks for experiencing this story from
The Sod Frontier: Homesteading on the Prairie
The full exhibit is on display at
Decatur County Museum
258 S Penn Ave
Oberlin, KS 67749
All photos and content are property of the Decatur County Museum. Please contact the Decatur County Museum for more information.
Presented by:
Decatur County Last Indian Raid Museum